ASKME (AwarenessSupportKeepingMessagesEnvironment) is an Eclipse plugin, which allows globally distributed developers to keep in touch as well as notice potentially contact persons. The plugin extends Eclipse with a contact list and a chat window.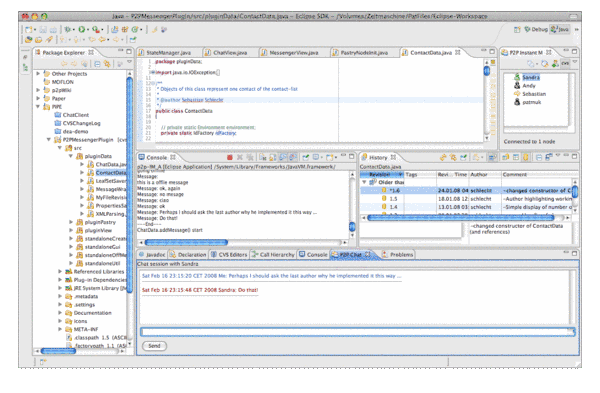 If development is geographically distributed, there is often a loss in awareness of co-workers working on the same project. Especially when they are spread over different time zones and work at different times. It is impossible to meet in the coffee kitchen and spontaneously share ideas and talk about problems. ASKME helps to keep this awareness with two main features:
Asynchronous Communication:
Messages are also sent a communication partner if he is offline. In contrast to the messaging application Skype, the communication partner doesn't have to be online. This allows the transmitter to send the message to before going offline, and the partner receives the message delivered when he goes online.
Highlight last Author:
The last author of the document open in the editor is highlighted in the contact list. So you can apply questions and suggestions directly to him, and are aware of who is also working on the same document.