PIKI is a P2P-based Wiki engine with focus on concurrent changes, version control an decentralized full text search. Our solution is based on FreePastry, an open source implementation of the structured, DHT based P2P Overlay Pastry.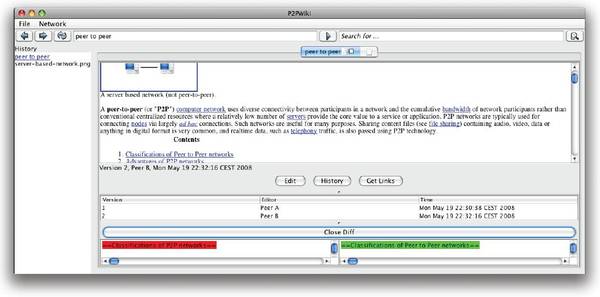 Articles are displayed and edited by a Graphical User Interface (Picture above). It features tab-browsing and provides an easy access to the browsing history. The main features are:
Save and Retrieve of Articles:
Article can be retrieved by name or via full text search.
Version Control:
In addition to the current version of an article all delta data sets of former versions are retrieved and can be reviewed in the GUI.
Full Text Search:
Beside the retrieval of articles by name, PIKI can also retrieve articles by a full text search engine.
Metadata from Articles and Traceability Links:
In addition to the article itself, Traceability Links are maintained and saved. This metadata contains additional information about the article like author, version number as well as related and referring documents. Furthermore, semantic information about the articles are saved to obtain the relationship between documents. This typification of articles and linking between them makes the process of proofing actuality easier.
PIKI was presented at CEBIT 2008.